More Fanfic from the Future
---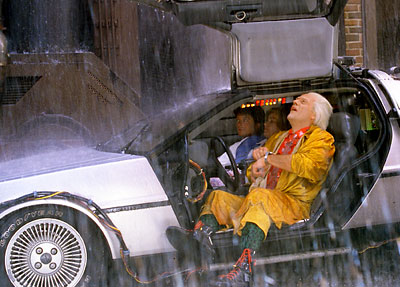 A Few Words...
First off, if you don't really know what fan fiction is, I'd check out an article about it first. (Yes, shameless plug, I wrote the article for a college magazine, but I did interview noted fan fiction writer Mary Jean Holmes about the craft, and I think it's pretty informative. Mary Jean also penned a spicy editorial entitled "It's Only Fan Fiction," which outlines some of the subgenres and attitudes people have on fanfic in general in rather scathing ways -- but since I agree with her views, I liked it!)
Anyway, I think I'm probably one of the few people who has read a lot of Back to the Future fan fiction -- from the good to the not-so-good. But it shouldn't be terribly surprising to me as wanting to read "Back to the Future stories" was what first prompted me to start writing my own, way back in August 1992. One reason why I put my stories on the Internet in the first place, back in 1996, was in the hopes that it would encourage other BTTF fans and would-be writers to also put their stuff up. It's taken a while, but some are finally beginning to trickle in, and that is one reason I created this particular page -- for others who just can't get enough adventures of Marty McFly, Doc Brown, and company. Also, in my vast searches for more BTTF fan fiction on the 'net, I've turned up no lists of this kind. Lists for other fan fic, yes - -but none for the poor, neglected series known as Back to the Future!
One last word before you bounce around these pages -- if you have some BTTF fan fiction available for perusal, e-mail me and let me know so I can add your link to this page. (Unless, of course, I stumble across it first.) And these pages are listed in no particular order.
---
---
SINGLE AUTHOR FUTURE FANFIC WEBSITES
Back to the Future Fan Fic by Mary Jean Holmes: The best BTTF fan fiction writer out there, by far, has now made her professional-quality work available at her website. One can download all of her stories -- more than a dozen -- at this web site. You need the free Adobe Acrobat Reader to view them and print them out as your own, but it's small nuisance to pay for this fabulous work.

Tekva's Doc & Fan Writing Page: The site of "Tekva's" stories, who was one of the premiere BTTF fanfic writers back in the day.

Starlighter's Back to the Future Fiction: The site of some really nifty vignettes, so far, by simply "Starlightercrm114." Hopefully with more to come.

The Hill Valley Telegraph: "Editor" of this website, Mike Mahoney, has posted a several shortish BTTF stories and invites others to contribute their own.

Tracie's Place: Includes some BTTF fic, including the completed story "Haunted Time," as well as another project or so in progress.

Back to the Future : Fire Tracks Through Time: Showcases the BTTF writings by fan Aaron Jennings. Mostly novella-length stuff.

Back to the Future Fan Fiction: Writer Jennifer Dawson displays her stories here, with many planned for the future.
INDIVIDUAL FUTURE FANFICS
"What the Hell?": A short BTTF story by Jeff Morris about what happens to Doc once Marty leaves 1955 (again).

A Back to the Future Prequel: A novella-length story by Julie (aka "Female Doc") about the origins of Marty and Doc's friendship.

"The Night of the Mad Dog's Revenge": A short story crossover merging the characters from the TV series "The Wild Wild West" with Hill Valley of 1887. The title is pretty self-explanatory -- Buford Tannen pays a visit of revenge to the western town and the townfolk there, as well as the main characters from WWW, do their darndest to defend the fort. (So to speak.)

"Celebrity Status": A short cross-universe fanfic merging BTTF with "The Adventures of Brisco County Jr.," a BTTF-ish Indiana-Jones-like series that ran on Fox in the early 1990's.
MULTI-AUTHOR FUTURE FANFIC WEBSITES
Fan Fiction.Net: Back to the Future: Located at www.fanfiction.net, this site lists rather short BTTF writings that people have done, and some of it ain't half bad. (A good place to post stories of your own if you have written some, and want a wide audiance to read 'em or don't have your own site.)

Back to the Fanfic: A Live Journal Community for BTTF Fan Fiction: This site is an interactive place where authors/fans can post fanfic, read it, discuss it, and participate in monthly fanfic challenges. All you need to do to get involved is get a free LJ account.
---
Last Updated: Wednesday, July 12, 2006
---
Go back to the home page.